Kiki en promenade, Marie Mirgaine
Julien is walking his dog. Without him noticing, he is carried away by an eagle. Now Julien is walking his eagle. But that was before he was replaced by a tiger. Until it is substituted by a fox, itself kidnapped by an octopus, and then a fly, a unicorn, and so on, until Julien's dog returns.
In this sublime picture book made of cut-out paper, the extraordinary invades the ordinary thanks to a simple but subtle phenomenon of accumulation. The child is amused by the element of surprise: which animal will be next? Will Julien ever realise what's going on?
Hardcover picture book, 21 x 27 cm, 48 pages
Rights sold: Korean, Simplified Chinese
Opera Prima Mention at Bologna Ragazzi Award 2020
Selection PÉPITE Montreuil 2019 – Prix LIBBYLIT 2019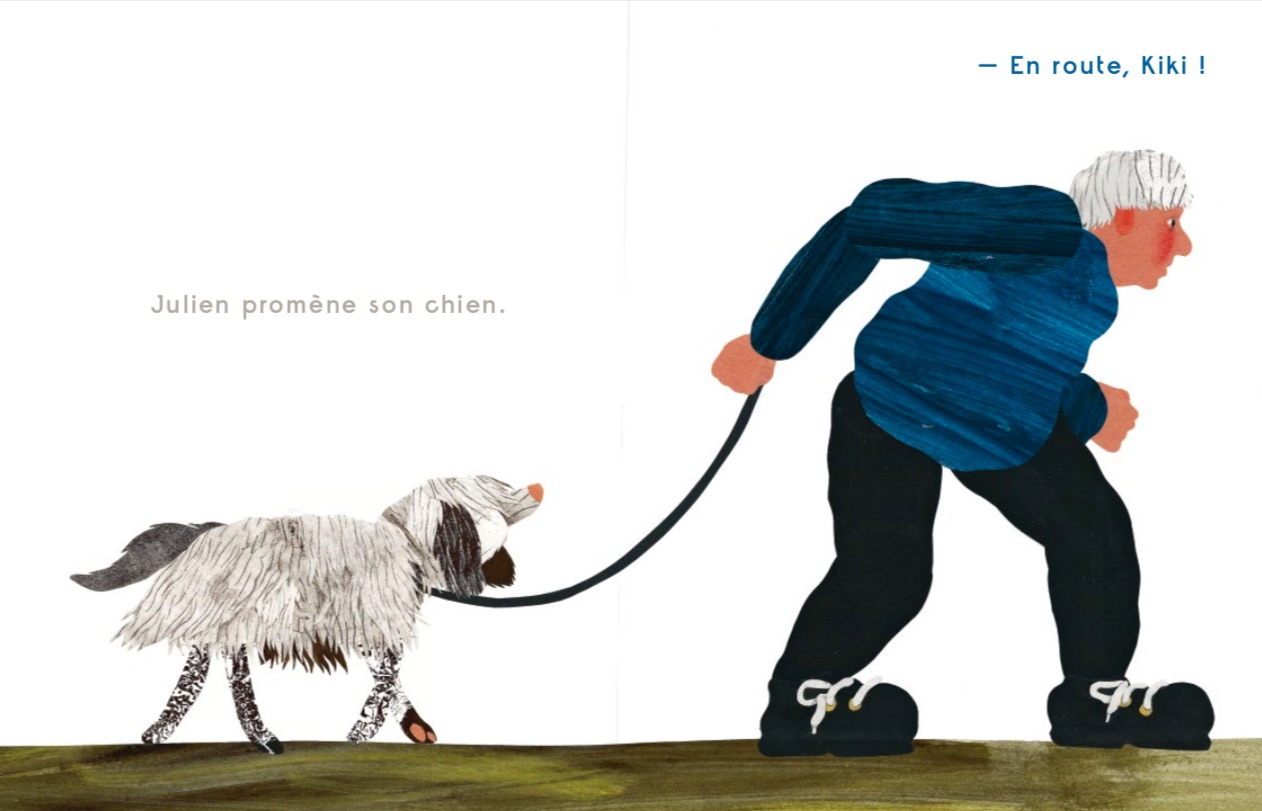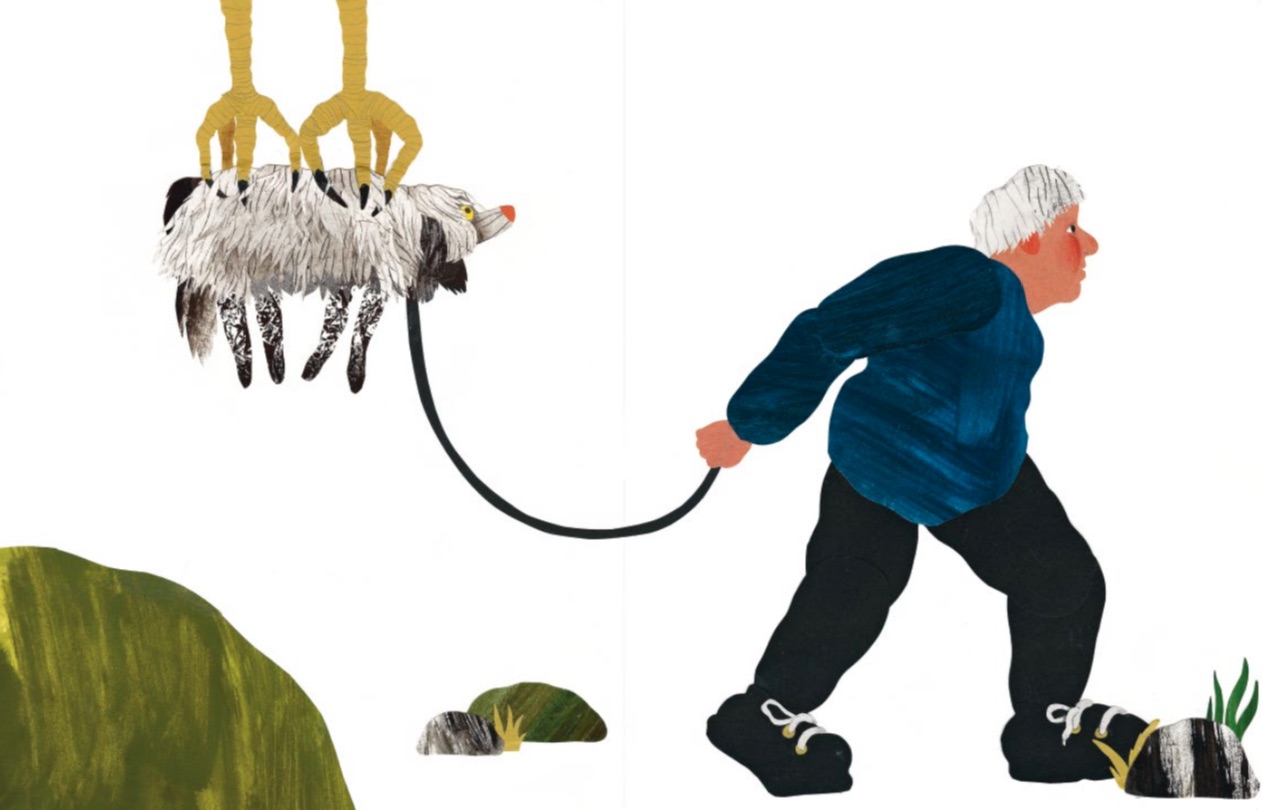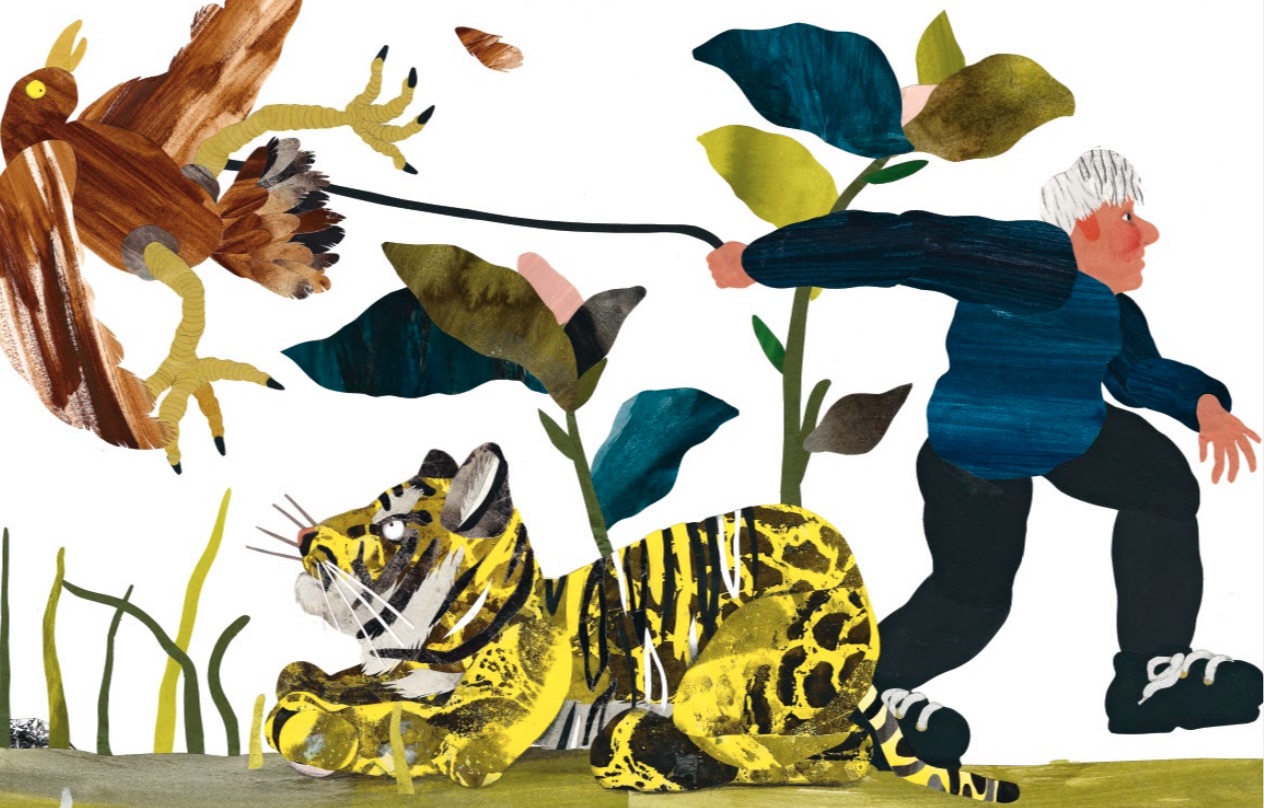 What the BRAW 2020 jury said: This is the enchanting and absurd story of the careless Julien who walks his shaggy dog. The book is skilfully constructed and drawn, with mixed media illustrations, including collage.
Télérama review, by Marine Landrot: A first picture book sparkling with life.
We know that such a dog, such a master. Then Kiki and Julien have big strands of white hair eating their face, and the same grumpy way of ripping through the air with the muzzle forward. And if mister has the laces of his clogs untied, it's to better respond to his animal's stringy coat. With this opening illustration alone, Marie Mirgaine imposes her rough and funny universe for a first picture book made of undetectable and very expressive glued papers. "Let's go, Kiki!" orders the master, in a voice that one imagines gruff, in a totally free way because this picture book gives the reader room for improvisation, which is proper to stories for the little ones. The weird doggie's walk (whose paws are covered with Indian ink illuminations, to give an idea of his infinite class) turns short in favour of chain kidnappings, to which the master remains totally indifferent. His dizziness makes him miss the appearance of multiple animals pulling on his leash. Too bad, because he could have discovered that there is fox, spider, and even octopus in him, since the picture book plays on the resemblance with an imperturbable mischievousness.
ADD BOOK TO MY SELECTION