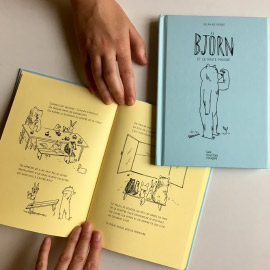 A French Publishers Agency
Hannele & Associates is a French publisher's agency specialized in children's books and coffee-table books. We represent French independent and creative companies, offering a wide range of titles from novelty books to picture books, non-fiction, fiction, etc. With such a variety of quality books, our bet is that everyone can find the right addition to their list! The agency also proposes workshops on selling rights and can provide expertise on publication and subsidiary rights.
Cover image from Björn, six histoires d'ours, by Delphine Perret
The team
Hannele Legras Willig
I have a Finnish mum (and first name!), though I am very French in fact. I studied publishing at Oxford Brookes University and English literature in Paris. My first job was with Gallimard Jeunesse's foreign rights, then I went to London and worked for the joined company De Agostini-RandMcNally. The first publisher I represented as an independent agent was Thierry Magnier, back in 2000.
*The power of literature*
Telling stories is what I've been doing tirelessly for over 20 years as a literary agent. Stories for young people that touch adults, stories that accompany children and stay with the adults they will become.
We share these stories with foreign publishers at international book fairs, and we'd like to thank them for coming to hear us! I also tell these same stories every week at my local school to Ayden, Emmie, Mila and Briac. I feel very lucky to be able to do a job that speaks to both the adult and the child in me.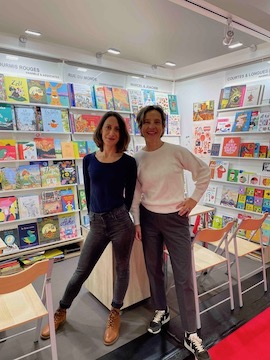 With the precious help of Chloé and Virginie
Chloé Lasserre is assisting Hannele in all aspects of the presentation of our books making useful translation and smooth relations.
Virginie Martins Macias is in charge of admin for the agency, tracking contracts and payments always with a smile.
And technical expertise
With LaBaseRights, the magic tool created by Phi-Anh Nguyen