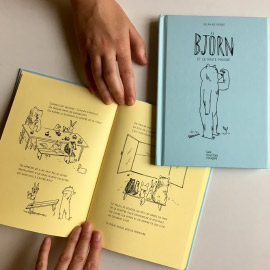 A French Publishers Agency
Hannele & Associates is a French publisher's agency specialized in children's books and coffee-table books. We represent French independent and creative companies, offering a wide range of titles from novelty books to picture books, non-fiction, fiction, etc. With such a variety of quality books, our bet is that everyone can find the right addition to their list! The agency also proposes workshops on selling rights and can provide expertise on publication and subsidiary rights.
Cover image from Björn, six histoires d'ours, by Delphine Perret
The team
Hannele Legras
I have a Finnish mum (and first name!), though I am very French in fact. I studied publishing at Oxford Brookes University and English literature in Paris. My first job was with Gallimard Jeunesse's foreign rights, then I went to London and worked for the joined company De Agostini-RandMcNally. The first publisher I represented as an independent agent was Thierry Magnier, back in 2000. I very much enjoyed presenting these children's books that were not sweet nor conventional. Since then, I have specialized in quality children books and the publishers I represent, together with their authors and illustrators, bring to me their view of the world. I have grown up as an adult with these books.
My favourite story is Wangari Maathai, the woman who plants millions of trees, because I discovered her in Rue du monde's title and her life still impresses me.
My favourite image is from The bird on the Branch, by Anne Crausaz. Nature is essential to me and I have looked at it from a new perspective with Anne's images.
My favourite character is Dany the Gravel, by Claire Schvartz, because anything can happen in children's books, as well as in life, and a stone can indeed reach the seaside if he dreams so.
With the precious help of Chloé and Virginie
Chloé Lasserre is assisting Hannele in all aspects of the presentation of our books making useful translation and smooth relations.
Virginie Martins Macias is in charge of admin for the agency, tracking contracts and payments always with a smile.
And technical expertise
With LaBaseRights, the magic tool created by Phi-Anh Nguyen